Webdesign international
•
Multilingual websites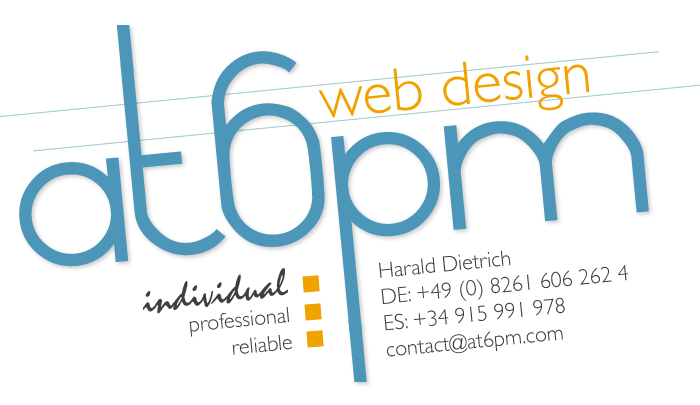 at6pm is a team of professional freelancers directed by Harald Dietrich and located in Munich and Madrid.
With our 10 years of experience in the fields of webdesign and programming we create individual, user-friendly and fairly priced web identities on national and international markets for a variety of pleased customers.
Search Engine Optimization (SEO), Multilanguage systems and Newsletter marketing are only three of our specialities.
We do not follow a "one size fits all" philosophy: at6pm treats each customer individually, therefore we give high priority to communication and exchange of information with you.
Our personal contact with you helps us to understand and to turn your requirements and ideas emerged from this interaction into the expected product.
Due to our extensive customer support we like to attend and advise you even after the project completion.
We gather all the essential information through personal conversation with you in order to focus our targeted and precise development on your needs and aims.
at6pm presents you visualized draft solutions which are oriented towards your financial specification and requirements of your project.
Non-binding concept composition free of charge
Proper and balanced customers budget usage
During the development process you participate with fresh ideas in all aspects and at any time: we ask you at each milestone of your project to discuss alternatives and optimizations.
Therefore we guarantee a successful project completion and project launch on time.
Regular feedback consultation
Timely project completion
Our international focus demands differentiated hosting possibilities. For that reason we provide our customers with attractive hosting options and servers in Germany, Spain and USA. at6pm offers a complete service.
This includes, among others, the possibility of hosting your web project on our high performance servers.
Our experience in the field of Search Engine Optimization (SEO) on the international market proves that geographic position of the servers could lead to a better search engine ranking.
We will assume both domain registration and server configuration free of charge in case you decide to host your project on one of our servers.
See further details to our hosting service at the website
of our IT-group Edit-Systems.
Expertise
SEO
Promotion Strategies
Corporate Concepts
Graphic & Image Design
Wordpress API

Technologies
HTML5
CSS3
PHP
MySQL
Javascript (jQuery)

at6pm exchange area - enter your domain (example: mydomain.com) and your password.
You may
contact
us in case of troubles.